Stores are no longer a place where consumers go to simply make a purchase if it was, why would we bother traveling to a shopping centre, battle through the crowds and pay for parking when online has made it so we could order everything we need from our phone?
Stores are now places that offer the chance to buy an experience rather than just a product, and if they're not, retailers are severely behind the curve and not meeting customer expectations – a serious risk in this ever growing, competitive sector.
The change in consumer demand has led to a new buzz-word sweeping the industry: experiential. But what does successful 'experiential management' entail?
There isn't an exact definition or solution, it's a loose term, but that doesn't mean it holds any less importance. An experiential management team create compelling and emotional campaigns that resonate with their target market, build trust and consumer loyalty. There is not a quick win or a one-way ticket to success on this, experiential management is a strategy which is constantly evolving and unique to a brand. If it was the same in all retailers, or if a brand didn't frequently change, adapt and advance their offering, destinations wouldn't create a memorable experience, it would become the norm.
Experiential marketing needs to be implemented to entice consumers off the sofa, away from online spending and into shopping centres and venues to enjoy an experience. Experiential marketing engages with consumers and encourages participation with a brand, generating discussion and a message that people will share with friends.
A great example of this is Samsung's sponsorship of the 2012 Olympics. Samsung created a brand experience at various destinations around London, allowing visitors to play with Samsung's Olympic Games app, take photos which instantly create personalised badges and enter a competition to win an S3 and an exclusive travelling experience!
No products were sold at these pop-up studios, however, a weighty 9/10 visitors claimed to be more likely to consider a Samsung phone as a result of interacting with the Samsung Studio!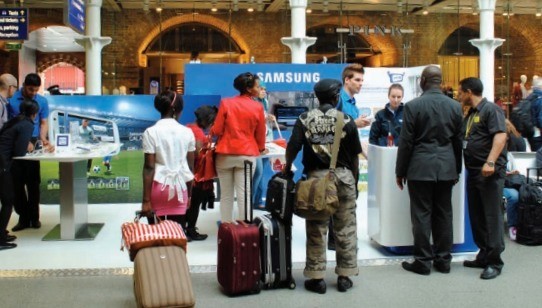 The challenge marketing teams have got is not only creating a compelling, engaging and trustworthy campaign. The real challenge is creating a whole host of campaigns consistently and ensuring they are up to the same standard on all marketing platforms in the mix and a response/communication strategy is in place to successfully interact with consumers.
Consumer behaviour is shifting; consumers are much more inclined to spend money on an experience rather than a product. Retailers need to react and create experiential strategies to deliver fun, unique shopping experiences in-store, whilst still driving customers to make a purchase. Creating an experience builds emotional attachments with a brand which is invaluable in this competitive market!
Experiential management brings great rewards for brands. If done successfully, retailers will enjoy much higher levels of engagement from their consumer base, generate positive feelings towards the brand and ultimately, increase customer loyalty.
Overcome the challenge of e-commerce by creating experiences worth travelling to… Retailtainment is the future!