Digital media company, GlobalData, last week shared their 'ground breaking' report ranking the top 50 shopping centres in the UK. The report is considered ground breaking due to the methods used to calculate the scores and GlobalData described it as the first of its kind to take the requirements of both tenants and shoppers into account. Whilst traditional data such as floorspace, turnover and footfall are still taken into consideration, the report also considers average spend, provision of facilities and shopper expectations.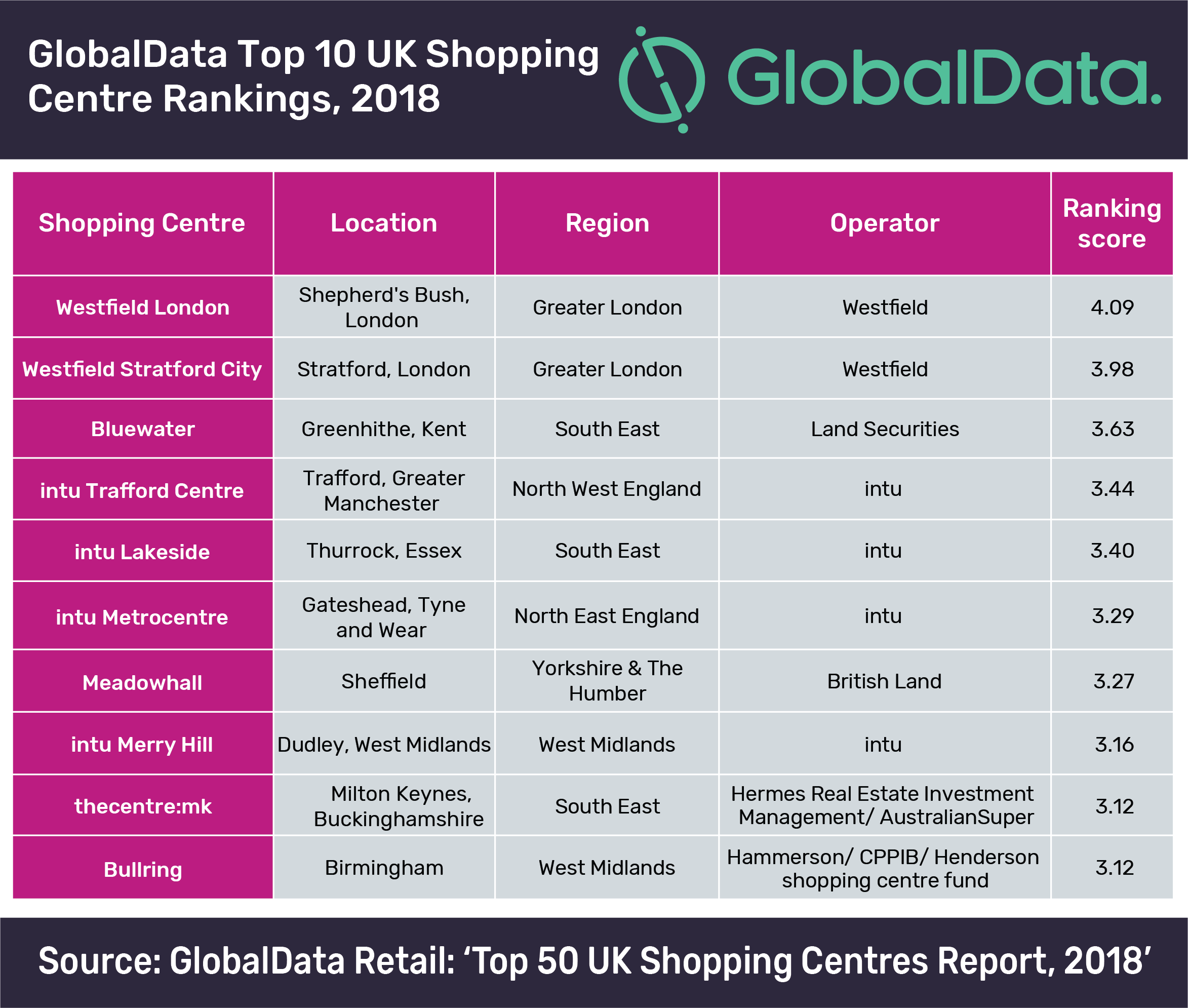 Generally, the report shows a minor reshuffle in the top 10 from previous rankings we have seen, but no real surprises with the likes of Westfield and intu featuring prominently. Experience, good transport options, easy or free parking, leisure facilities and a meeting place feature as key reasons customers visit shopping centres. Ultimately though, the brands on offer remains top of the list of requirements for shoppers. Positively for the UK retail sector, Shopping Centres and the High Street remain prevalent over online shopping, according to frequency of use and volume of money spent – UK shoppers still prefer the physical experience over online!
A striking fact to come out of the report is the top 50 UK schemes contribute £17.4bn in consumer spending each year: 5% of the overall spend on non-food retail and leisure, demonstrating just how key these destinations are to the wider UK retail market. And an impressive 80.6% of shoppers use food and leisure facilities when visiting shopping centres.
What is particularly interesting is, many of the top 10 aren't ranked as highly when we look at some of the individual metrics like total sales density (in the local catchment), annual footfall, occupancy rates and total turnover per visitor. Where they do remain dominant though is total centre turnover (unsurprisingly), total area (again, unsurprisingly) and dwell time.
Why have we seen this fluctuation in rankings when we look at the individual metrics?
Over the last 2-3 years we have seen a significant rise in the 'community mall' – dilapidated town shopping centres reinvented and reinvigorated by specialist landlords like New River Retail and Ellandi who take a centrally positioned but run-down mall and establish it as the centre of the community through intelligent leasing, marketing and management strategies.
The rise of the community mall is a direct result of the service they offer to the local demographic. Look at the sales density: community malls take a captive audience and give them what they're looking for – convenient shopping and a brand they feel passionate about. These malls have a captive market for convenience and value retailers too, often anchored by a supermarket to drive footfall, they are also home to coffee shops, £1 retailers, fast-food, value fashion brands, card shops, phone shops, opticians and banks. They take outdoor spaces and recreate them to provide event and promotions space, allowing them to host family event days or offer local retailers chance to test-drive their product, ultimately driving brand loyalty and engagement within the community.
For the major spending trips, shoppers are willing to travel further afield, but there is a lot the trophy schemes can learn from the strategies community malls are using to drive brand engagement, spend and footfall. It will be interesting to see how these rankings fluctuate further over the coming year.
What are your thoughts?