Love Island – the reality TV show that has the whole country hooked – is having a major impact on retail sales!
The show receives masses of attention through social media, magazines, retailers and venues alike. The statistics from last year's series demonstrate the impressive level of engagement the programme entices…
75 percent of all 16-25-year olds in the UK were registered on ITV Hub.
1 million people watched the final night of series 3 live on a tablet.
110,000 personalised water bottles were sold in 4 weeks. At one point, ITV sold 7,500 of them in 1 night.
Primark sold 197,000 slogan t-shirts.
The show received 280 million video views across social media.
5 billion twitter impressions related to Love Island.
The programme has attracted an incredible 3.4 million viewers this year so it is not surprising brands are looking to capitalise on this audience. There has been massive interest from big brands wanting commercial advertisement space with Calvin Klein, Ikea, Cadbury's, Asda, Lloyds, Halifax and H&M all visible in the ad break.
Due to the mass audience, brands have taken the strategy of sponsoring the programme to grow their brand awareness and build a loyal consumer base with a guaranteed, daily repeat audience! This year, Superdrug remains the headline sponsor, with an additional strong number of impressive brands including, Kellogg's Corn Flakes, Lucozade Zero, Rimmel, Missguided, Jet2holidays, Ministry of Sound, Samsung, Primark and Echo Falls.
Missguided have reported that sales have increased by approximately 40% during the evenings Love Island is on TV! Missguided's new Chief Customer Officer, Kenyatte Nelson said: "There's nothing that exists outside of the Instagram platform that touches on a daily basis, for 10 weeks, our core customer – particularly those under the age of 25 – with the depth, frequency, and level of engagement like Love Island."
Love Island's continued sponsor, Superdrug, has had a massive jump in profits since being aligned with the show. In 2017, revenues reached £1.2 billion with pre-tax profits jumping 16%, totaling £92.9 million! The brand opened 22 new stores across the UK and Ireland – fighting the woes we are seeing across the retail market.
We have seen loads of brands jumping on board to utilise the show to maximise sales and activity. Online fashion retailer, In the style, has been releasing discount codes in relation to gossip on the show. We have seen WEHATEJOSH10, giving consumers 25% off sitewide and as of last night, IMLOYALBABE. These discount codes are a great way not only to drive website traffic and sales, but also engage with the audience and create hype and discussion.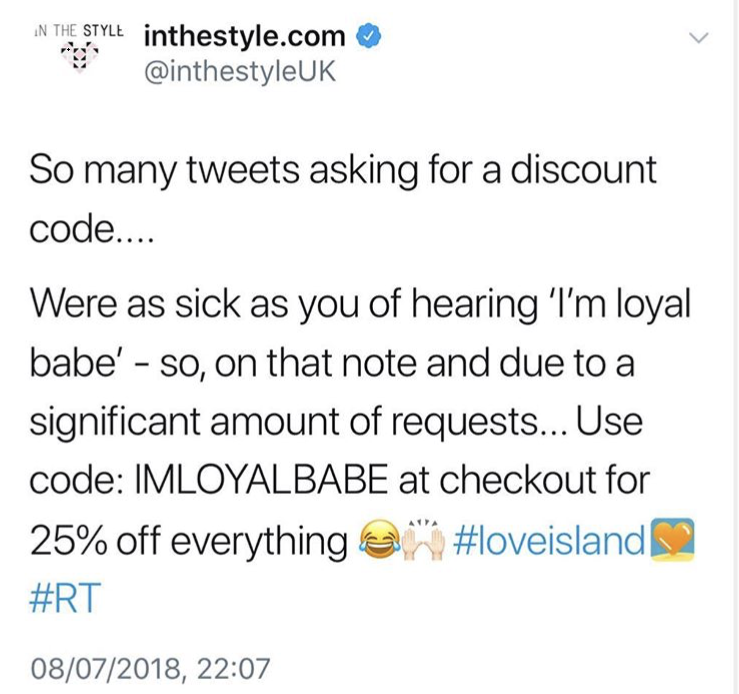 When the show ends, retailers, shopping centres, venues and leisure destinations all have the opportunity to host events, book signings or meet and greet's with the show's cast to capitalise on the show while there is still a buzz!