One in four is affected by mental health. This makes it almost certain that even if it's not personally experienced, encountering someone suffering is highly likely. Especially in the workplace where stress factors are rife.
It has become increasingly well documented in the media how mental wellbeing is vital for a healthy and productive workplace. Awareness is a great first step, but it is the actions that take place following that will really make a difference.
Transformative change starts at the top: employers must ALL be champions of good mental health. Here are three basic tools that should be utilised in the workplace to help employees find sanctuary from any issues and enable them to focus. It will also help in identifying potential issues and guiding people towards the right support to prevent problems escalating.
TALK
Of course, this is reliant on your line managers being receptive to the discussion and that's why it's so important to have mental health first aiders in every company. Communication eradicates uncertainty, and its uncertainty that can put a strain on our mental health.
If you are to take one tool away from this blog, it would be to understand the difference between empathy and sympathy and use EMPATHY when communicating.
Empathy – perspective taking, staying out of judgement, recognising emotion and communicating it.
Brene Brown describes the difference as below: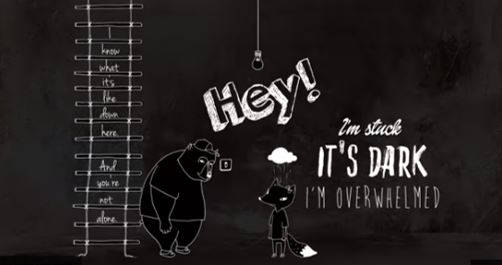 Someone has fallen in a hole, they're stuck, it's dark and they're overwhelmed.
Empathy would climb down into the hole, say 'I know what it is like down here' and 'you are not alone'.
Sympathy would stay above ground, recognise that the other person is struggling and say 'oh, it's really bad huh – you want a sandwich?'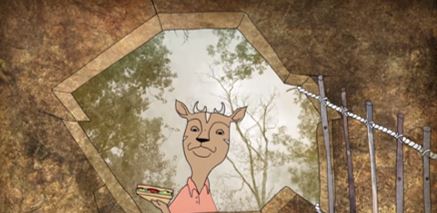 Our brains are wired to run away from pain, which is why people start their sentences with 'at least…'. However, often the best response would be to say 'I'm glad you told me', we don't need to fix the problem, we just need to listen.
STRESS CONTAINER 
This is a model to help better understand an individual's stress and how much they can withstand. It will be unique to everyone and often dependant on life experiences to date; the higher your tolerance to stress, the bigger capacity your container has to hold stress factors.
Stress factors go in, they fill the container. When that container overflows, we see 'emotional snapping', a breakdown in emotions where one is unable to cope or withstand stress.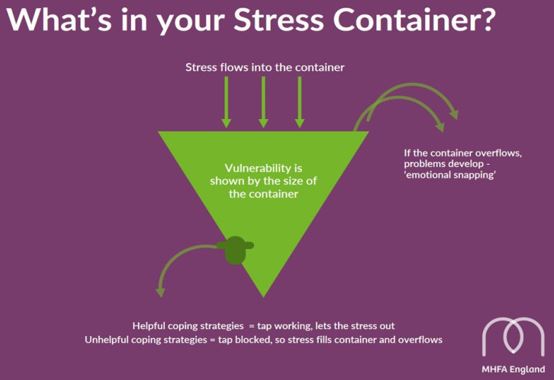 This is where we must use the 'tap'. The tap refers to solutions to deal with the stress factors that we encounter. For one person this might be meditation, for another, it might be making a list. Once useful coping mechanisms are identified, these can be used to make sure 'the tap flows' and our stress containers are never full. Similarly, we must also identify triggers that might cause the tap to block or slow; drugs, alcohol, stressful relationships etc. This is not only a helpful way of managing our own stress, but also understanding others.
FRAME OF REFERENCE
Oxford dictionary definition: a set of criteria or stated values in relation to which measurements or judgements can be made.
This needs to be applied to all companies when dealing with employees or colleagues. We need to be aware of the assumptions made and the attitudes used when we are perceiving others in any given circumstance. Varying factors such as beliefs, culture, family and socioeconomic backgrounds, can create a block in being able to filter this perception: we need to appreciate these factors are part of the 'frame of reference' which we must use to alleviate any bias or judgement.
A companies employees are their most valuable asset and hopefully, sharing the information I gained from the MHFA course will provide some basic tools to support mental health and benefit future success.