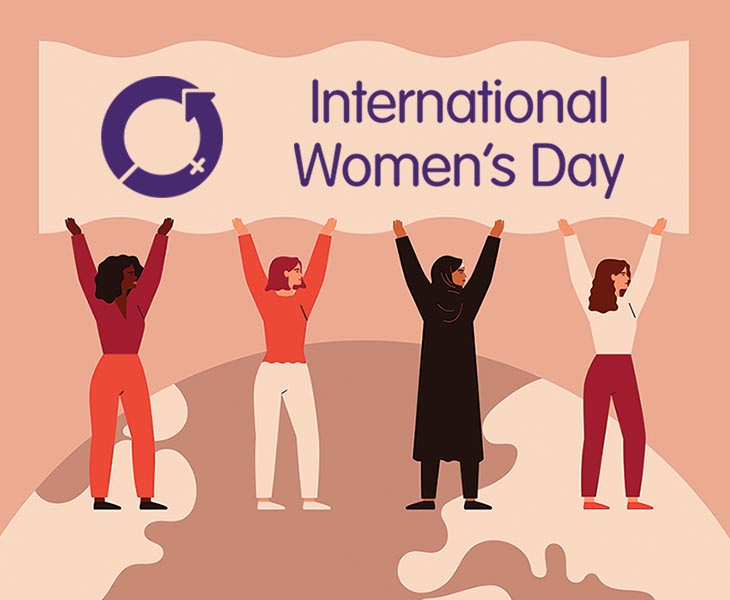 We are continually impressed by the amazing achievements of the women in our business, at all levels of experience and seniority. Many of these women joined us at the start of their careers and we have been fortunate enough to go on that experience with them, supporting them in their development and witnessing their many successes. We wanted to use International Women's Day as an opportunity to share their stories with you, to talk about their successes, journeys to date, and what keeps them motivated and striving towards their goals.
How have you got to where you are today?
Holly Allason : "I started my career out of Foundation Recruitment 2.5 years ago straight after University – I actually applied for the job in the midst of my final exams and went to my first interview just a few weeks after finishing University! I joined Foundation as a Resourcer and have progressed up to Senior Consultant. I've dedicated a lot to Foundation and love the company's values and goals so I've worked hard to contribute a lot in my role and have progressed because of this!"
Danielle Godolphin: "Lots of hard work, seizing all opportunities to learn and develop, building great relationships with people, and working within a company with a culture which has enabled me to thrive!"
What is your biggest achievement in your career so far?
Danielle Godolphin: – "I don't think I can pinpoint a specific moment but overall what I'm most proud of is getting to a point where I genuinely believe in my own abilities as a recruiter, recognising the skills that I have developed over the last 2.5 years. When dealing with very senior and impressive individuals, it sometimes still comes as a (very pleasant) surprise that they look to me for my advice and expertise."
Are there any career-defining moments or people that helped shape your career in recruitment?
Shaunagh Durkin: "There are times of success and achievement that I look back on with pride, but the defining moments were the ones that didn't go to plan, the ones where I made a mistake or something fell through. There is always a lesson to be learned and I will never be done learning. It's allowed me to continue to develop and grow as a professional and an individual."
Holly Allason: "Funnily enough, I feel like the beginning of my career which was a rollercoaster (to say the least!) held some of the most defining moments of my career. I started at Foundation straight out of university and moved straight to Manchester, a city I had been to maybe twice ever! Throwing myself into working and learning the lows that can come in recruitment was important in building my resilience and confidence in myself! Alex Rowbottom and Shaunagh Durkin, Director and Associate Director at Foundation, have also been pivotal in my career. It's amazing to have such strong female role models."
What are your career aspirations?
Ghislaine West: "Coming into a company with such a healthy female bias is truly something that inspires me to continue my career at Foundation Recruitment. I'd like to continue with my progress in the senior leadership team and continue to take on projects that support our ambitious growth plan whilst championing EDI at the forefront to attract more and more like-minded employees."
Holly Allason: "I intend to continue my career with Foundation for many years to come! The business has treated me incredibly well over the last 2 and a half years and its values align with mine perfectly. I love my job and speaking to clients and candidates every day brings me so much job satisfaction, as well as working with such wonderful colleagues! I'd love to follow the path of Alex and Shaunagh and progress to Senior Management in a few years' time."
What's your secret weapon to make you stand out from the crowd in such a competitive market?
Alex Rowbottom: "It sounds simple but doing what I say I will do. I'm a very honest recruiter. I won't commit to a piece of recruitment if I don't believe I/we can absolutely add value to the client's process. I don't waste clients, candidates, or my own time. I follow through on every promise. I manage expectations with openness, honesty, and professionalism."
Shaunagh Durkin: "I am passionate about client relationship management. I enjoy taking on complex, challenging, or even negative relationships and thrive when working with people and focussing on developing commercial relationships. I take great pride in the excellent relationships I have built with my clients and enjoy problem-solving to ensure the best results and repeat business."
How do you deal with inner critique?
Ghislaine West: "Dealing with internalized feelings and personal critique is often a focus for our wellbeing commitment at FR. We work hard to unpick and reflect on where the evidence is to support your feelings, and often – there is none! It's important to work through any negative emotions you might have as and when you are experiencing them as a healthy mind and confidence is key to thrive in any given environment!"
Alex Rowbottom: "I think everyone has their demons and they can be very difficult to manage (trust me – I've had my fair share and then some!). The biggest piece of advice I could give to anyone in business, life, generally is to surround yourself with people that genuinely want to see you succeed and are supportive. All of my inner critiques (past, present, and likely future!) have been and will be eradicated somewhat by my support network's belief in me. I have a very supportive team around me, we champion each other's successes and we support each other during failures. My friends and family are amazingly supportive and so any self-doubt is quite easily lessened simply by having this presence around me."
What would your advice be to your younger self?
Danielle Godolphin: "Don't be scared to choose a career path that you haven't always aspired to. Not many people grow up thinking "I want to be a recruiter" but this doesn't devalue it as a profession, nor mean that it isn't a challenging and dynamic industry to work within. The number of people I have encountered who love what they do with job titles that I've never even heard of before shows me that, actually, it's all about your own enjoyment and success in the role, rather than anyone else's perception of it."
Holly Allason: "My advice would be to keep doing what I was doing and to not let the opinions of others affect me too much! I'm so happy with how my life has turned out at this point, but I think if I'd cared less what people thought, I could have potentially been more confident, had more self-belief, and done more of what I'd wanted to do earlier!"
What is the best lesson you have learned in your career?
Shaunagh Durkin: "Feedback is invaluable. Being open to hearing it and willing to absorb and action it is the reason I have got to where I am today. It not only helps you improve relationships and results, developing your professional success – when harnessed, it is extremely powerful in accelerating your personal development too."
Current demographic statistics at Foundation Recruitment:
58% female business
80% female senior leadership team
60% female board
For more information on our Senior Leadership Team click here.